Did you ever consider Italy as a major destination for sea kayaking ?  Check out our great offer of sea kayak tours to find out that it really is !
Genius Loci Travel offers a select range of kayak tours along Italy's most beautiful coasts, both for beginners, as well as for more experienced kayakers. Of course we organise tours along the stunning Amalfi Coast & the famous Cinque Terre, but as well we offer some great kayaking adventures in Portofino and along the coast of the Cilento National Park.
Some trips are for everybody, others are more challenging. Some trips focus just on the sea-kayaking, some are mixed with other activities, taking in some amazing walks and some sightseeing 'musts'. You make the choice!
Most groups are small group tours, with set departure dates. But we also offer some so-called 'self-guided' tours. Independent does not mean unsupported, though! Also on these trips our local staff is just a phone call away.
And of course it is always possible to organise a tailor made trip, especially for you and your friends!
Check out our great offer of Sea Kayak Tours in Italy !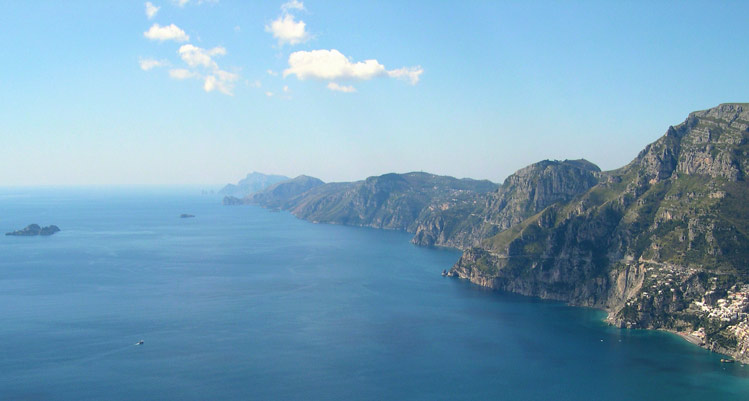 Why a Kayak tour with Genius Loci Travel?
One of the strengths of Genius Loci Travel is the design of each tour. A Genius Loci tour  takes you along carefully selected routes, making sure that you see the best that each area has to offer, with an optimal mix between activities (kayaking, hiking & sightseeing) and relax, between culture & nature.
According to the area, and on the kind of tour you choose, on some tours the focus is more the kayaking, on others also on the walking & the cultural aspects. But all our tours provide the best possible mix between culture & nature. Not one single day is the same on our tours!
Type of tour
On our tours we aim to find the right balance between continuous 'Inn-to-Inn' routes and those that are 'Centre based'. Usually you change accommodation about every 2 days on our tours. This avoids the hassle of having to change hotel every day, while allowing you to follow a continuous route through the area, without having to travel each day to the start of your route. However, also real 'Inn-to-Inn' trips as well as centre-based tours are available.
We offer a large range of guided tour, under the guidance of a professional kayak instructor and walking guide.
Also do we offer some independent tours, on which you are free to follow the route at your own pace. These tour programmes are flexible, you can normally start your trip on any day during the season, and you can add on extra days where and when you desire, for resting or sightseeing, as well as to opt for tour extensions in nearby areas.