The 'Vie Francigene' of southern Italy
Grade

Comfort level

9 Days - Bases in charming hotels
Overview
From Rome to the Holy Land – walking through the authentic southern Italy
The Via Francigena does not end in Rome. This is indeed the place where most medieval pilgrims were heading for, to visit the city of Rome and the places the martyrdom of St. Peter and St. Paul. But a part of the pilgrims, during medieval times (and also later) travelled on to the 'Holy Land'. Therefore, their route continued south of Rome, mostly towards the port of Brindisi, where they could embark for the Holy Land.  Of course the pilgrims used mostly the roads which were already there: the Roman roads such as the Via Appia, the Via Popilia and the Via Traiana, which follow the most obvious passes and the most 'logical' routes from Rome to Brindisi and which were in place already since a 1000 years at the time of the pilgrimages.
Other routes used by the pilgrims refer to the Holy Emperor Frederick II, who has lived a big part of his life in this area, and to the cult of St. Michael, which has its main temple in the mountains of the Gargano Promontory. Therefore, even more than in northern Italy there is not such a thing as one 'Via Francigena', there are many different possible routes. For this reason most people refer to the 'Vie Francigene' (which is the plural form in Italian), rather than 'the' Via Francigena.
Also in this part of Italia, obviously most of the old Roman and medieval roads have been transformed over the centuries, and are nowadays often major roads of national importance ('strade statali'), or otherwise busy roads.
For that reason also for our southern 'Francigena Routes' we have selected only the 'best parts', and where necessary we deviate from the 'official' Via Francigena. This way we can take in a number of absolute highlights of southern Italy, places you must see once in a lifetime, but which are on no list. And we can let you enjoy the pleasure of walking a pilgrim's route, but also to relive the experience of the medieval pilgrims, walking through forests and pleasant agricultural landscapes, from abbey to abbey, from village to village, but without the noise of modern traffic!
According to what your interests are, and whether the focus of your tour will be more on the walking or on the discovery of the area, there are many interesting routes possible. Please contact us to know about the actual possibilities.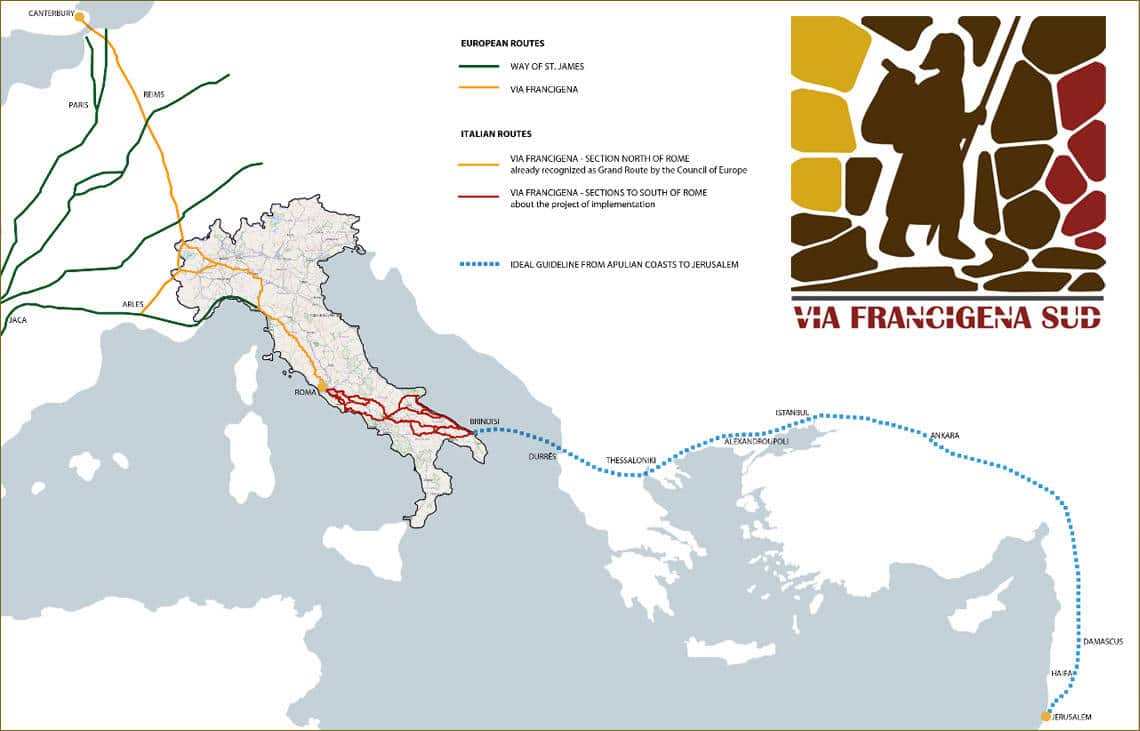 Although the tours can be adapted to your fitness – generally speaking these are moderately challenging tours, which are suitable only for experienced walkers with a good general physical condition and with good orientation / map reading skills. Through the extensive footpath network of the area, roughly following the traces of the Via Francigena, one of Europe's most important 'highways' in medieval times, you walk from village to village, a full immersion in the  'Mezzogiorno', Italy's deep South.